These thoughts and insights about the offboarding process, about people leaving, and even rehiring them after, were initially included in my last newsletter.
Hard times are moments of reflection
This pandemic year is very complicated for many companies, and still might be next year. This situation usually ends in a lot of changes, and good people are leaving. We've seen lots of layoffs during this period, e.g., we saw recently LinkedIn, Yelp, Optimizely, or Skyscanner. In the first newsletter, I shared this layoff tracker where you could have a quick vision of what's going on.
I wanted to dedicate a time to reflect on how to deal with this process in the best way possible. It isn't easy to retain talent. When based on a complicated situation, companies are forced to make difficult decisions, seems more important to give it the proper time to prepare the whole process, thinking not only in the close present but in the future. I don't want to focus on the process itself (transition or handoff, risks, etc.), but on the attitude, respect, empathy, and gratitude for the work done.
Investing in people through the offboarding process
When a colleague has to leave, it is essential to end the relationship positively, no matter whether it is voluntary or not. Regarding the first ones, think about the benefits of rehiring. Not only could you avoid the training and learning curve (culture, processes,etc.), but you also benefit from the grown experience, expertise, and contacts people have gained while away. There are high possibilities that if they return, they come back better than they were when they left.
This HBR article talks about this need for an employee offboarding process, with particular attention on a possible rehire, based on the author's personal experience as an employee and employer.

During my short experience, I have seen many mates leave, some of them direct reports. And I've seen a few interested in joining again months later. That probably means that we did well. By the way, as I saw people open to come back, I saw managers blocking it. When people voluntarily leave, others could take it bad. And this behavior is something to take care of.
Treating people with fairness and compassion
And what happens when you have to end a relationship with an employee, forced by major causes? Even in the worst situations, you'll always need an offboarding plan. And again, supporting, and feeling empathy is the proper way to face the situation. Firing people generate tension in the whole organization.
And never forget that the people who leave may have personal relationships with other colleagues who stay. Be smart and invest in a good relationship for the ones who go and the ones who continue. Also, in this HBR article, you'll find some recommendations for treating people with fairness and compassion.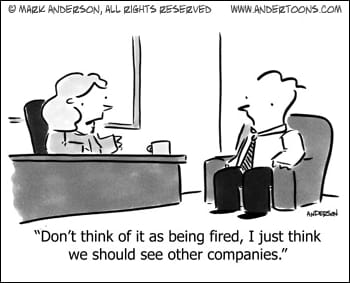 Communication works for those who work at it
As I used the example of Linkedin, which is going to reduce 960 positions, let's check its communication: A Message From Our CEO Ryan Roslansky.
Some may see in this kind of transparency a productivity risk, and it is a probable impact. Still, the significant impact will probably come due to the wrong work with their employees that was done previously and during the process. It doesn't hurt to show real gratitude.
Also, as an ending recommendation, it is crucial to own and control the communication. In this kind of situation, there's nothing worst than hallway comments or gossip.
I hope you liked it. If so, please share it! Do not hesitate to add your comments. And, if you want to stay up to date, don't miss my free newsletter.
Thanks for reading.
---
Also published on Medium.
---
Join the FREE Newsletter
---
Also published on Medium.